Green Card Renewal/Replacement Guide
Understand the green card renewal/replacement application with Visa2us
Green Card Renewal/Replacement
With a few clicks, make the application a pleasing journey to the U.S.
Green Card Renewal/Replacement
Submit a form I-90 to renew or replace your permanent resident card (green card).
Before we get started…
Renewing your green card involves separate USCIS forms and documents depending on one's situation. For example, you will need to renew your green card if you are a permanent resident but have lost your green card or you had it stolen inside the United States. Likewise, legal permanent residents who are outside of the United States also need to have their green card eventually replaced if they have lost it. Finally, legal permanent residents might need their green card information changed if they have a new legal name, if they take up commuter status, or if their current green card is set to expire. Each example involves separate forms and filing procedures. This guide is meant to address each respective procedure.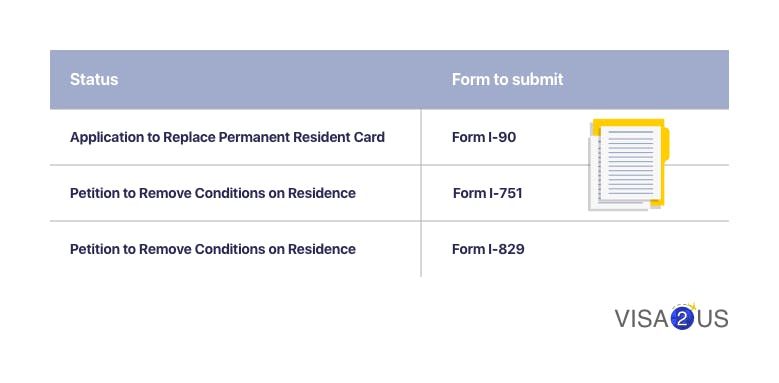 Processing Times
Processing times vary depending on the application you file for a green card renewal:
I-90 Processing Time: 
If you are filing an I-90 for a green card renewal, the filing fee is $455. The processing time can vary for this application, but on average there is an 8-10 month processing time until a final decision is made.
Applicants typically will receive a confirmation of their filed application within 3-5 weeks. This confirmation is known as the I-797C.
After 5-8 weeks after filing their application and receiving confirmation, applicants will also need to (most likely) attend a Biometrics appointment.
I-751 Processing Time (for those who removing 2-year conditional status)
The I-751 is a petition that needs to be filed jointly by couples in which one partner was granted a two-year conditional green card, and thus needs to have those conditions removed in order to secure a permanent 10-year green card. Because this is a petition with supporting documents needed and a USCIS interview, the processing time is different than the I-90.
Applicants should receive an I-797C Receipt of Confirmation within 4-6 weeks after submitting their petition.
Next will be a Biometrics appointment, which will be scheduled with the applicant for 6-8 weeks after initial submission. Biometrics is needed for this application to run a background check on the petitioner.
RFEs—Requests for Evidence are more common with petitions because of the nature of needing to support very specific supporting documents. If you receive an RFE from the USCIS, it will occur within the timeframe of 2-6 months after initial submission. 
Next in the I-751 process is the interview, in which both the petitioner and the conditional resident must attend. This interview is usually scheduled and takes place at least 8 months after submission.
Green cards are mailed to applicants at the address they have provided. Generally, I-751s are approved after the interview. Applicants can expect to have their green card mailed to them approximately one year to 18 months after filing.  
Form I-131A, for Lost Green Cards Abroad
There is one other processing time that should be mentioned. This is the I-131A, which an application for a travel document. If you lose your green card abroad and need a new one, you will not be able to receive one abroad. Instead, applicants need to file for a travel document so they can board an aircraft back to the U.S.
This processing takes place at a U.S. embassy or consulate. It usually takes a matter of days to issue these documents.
Estimated Costs
The filing fee for the I-90, Application to Replace Permanent Resident Card is $455 USD. There is also an $85 biometrics fee.
The filing fee for the I-751 Petition is $595 USD. However, there is also a Biometrics fee of $85 for the conditional resident and each dependent that is added to the petition. U.S. citizen spouses or legal permanent resident spouses do not have to pay a Biometrics fee.
The I-131A Application for Travel Document has a cost of $360. There is no Biometrics appointment for this application process.
What are the Legal Requirements for Green Card Renewal?
The legal requirements, as we have been reviewing, depend on the type of renewal process that one is going through. The I-751 Petition for 2-year conditional residents is probably the most stringent. Applicants in this category need to have a U.S. citizen spouse who is otherwise admissible during the time of filing the petition, and the conditional resident needs to have not done anything illegal or anything that jeopardizes their status in the United States. Such inadmissibility criteria would largely be the same as an applicant who is having an I-130 filed on their behalf.
In addition, both the conditional resident and their spouse need to attend a USCIS interview prior to the final decision of the conditional residents' green card renewal. This means the couple needs to still be in a committed, bona fide marriage.  
The I-131A Application for Travel Document requires the applicant who lost their green card to only verify their legal name/nationality via a foreign passport and CBP stamp.
The I-90 Replacement application requires those whose green card is about to expire, or for those who have lost their green card, or have had it stolen, to verify their identity with appropriate documentation. For those who are taking up commuter status, the legal requirement is to show the USCIS evidence of one's employment record in the last 6 months.
Required Documentation
 The following documents are needed for I-751 petitioners and conditional residents:
Photocopy (front and back) of the conditional two-year green card you're trying to replace
Evidence of the bona fide marriage (anniversary pictures, the birth certificate of new children in the family, bills/resources that have been split)
Two passport-style photos for each petitioner and dependent (if applicable)
Dispositions of any criminal charges that might have occurred in the two years conditional green card period (legal documentation)
For those filing an I-90:
A government-issued ID that contains your name, DOB, photo, and signature
A copy of the I-797 that was issued for your existing green card (if applicable)
Appropriate legal documents if your name was legally changed since the issuance of your existing green card
Evidence of employment status (if switching to commuter status)
Copy of expired green card (if applicable)
Translation documents to English (if applicable)
For those filing an I-131A at a U.S. consulate or embassy
Foreign passport
CBP stamp of prior U.S entry
Tracking Information
Applicants will be able to file their I-90 electronically, but all I-751 petitions need to be mailed in, which means that it is important to submit a copy of the Form G-1145 eNotification with this form, available here. Clip this completed form to the front of your petition.
For those who have lost their green card abroad, there will be no tracking system, and the U.S. consulate will either contact you directly by phone or send you an email. Because you don't have a residence abroad, it is best to keep close relations with the officer or unit that helped you with when you filed your I-131A.
For online tracking, in the event of filing an I-90, applicants should familiarize themselves with the USCIS online account, where they can submit applications and also attach supporting documents. Applicants should log in to their profile from time to time to check the status of their application.
FAQs
Questions? We answered some of your most frequently asked questions.
When will a two-year conditional green card be issued?
What form will need to file in order to remove the conditions on my two-year green card?
Once I remove the conditions of my two-year conditional green card, what happens next?
What are the supporting documents needed in order to remove conditionality from a two-year green card?
What is the filing fee for the I-751 Petition?
What is the timeline for replacing a green card that is set to expire?
How do I replace my green card from within the United States?
What is the filing fee for the I-90?
Will I need to pay for a new green card if the existing card that was mailed to me has an error?
What happens if my green card is lost or stolen while I'm traveling internationally?
What happens if I don't renew my green card?
What happens if I try to re-enter the U.S. without my green card (because it was lost or stolen)?
Green Card Renewal/Replacement
Submit a form I-90 to renew or replace your permanent resident card (green card).
Skip the research part of your immigration application.
Simply answer questions we prepared for you and the completed forms are ready!
Do It Yourself
A Comprehensive Guide for
Green Card Renewal/Replacement
Wish to prepare and file application on your own? No worries! We will guide you through every step in preparing your application.
Application Process: Step by Step Guide
Learn how to complete the forms to make your application process go smoothly.
Contact Us
888-666-3960
Customer Service Phone Office Hours:
Monday ~ Friday
6:00 AM to 6:00 PM Pacific Time Zone
VISA2US Headquarters
600 Stewart Street Suite 400, Seattle, Washington 98101, USA (Plaza 600 Building)