Before We Get Started...
In this guide, we are going to explain everything you need to know to file I-485, adjustment of status.
Processing Time
26 - 42 months
Estimated Cost
The fee for filing I-485 varies based on the applicant's identity and age. We roughly list the different fees for different types of applicants. You can also check out the exact fee via USCIS's Fee Calculator.
Answer a few questions to see if you are eligible for I-485 adjustment of status.
What is Form I-485 used for?
The I-485 Adjustment of Status Guide is an application for those looking to obtain a Green Card in the United States. Several factors depend on whether an individual's pending I-485 document will be accepted, such as their marital status, military career, their nationality, and certain acts passed by Congress, and whether or not they entered the United States as a refugee or asylum seeker.
What are the Legal Requirements for Applying an I-485 Adjustment of Status?
To process an I-485 Form, there are several requirements one needs to maintain during their time of filing. The first is that an individual needs to be present inside the United States when the adjustment of status is filed (and until the time it is complete). Secondly, a lawful entry into the United States is required. This means that an individual was admitted, or paroled, into the U.S. with valid documentation and upon making entry into the country made face to face contact with an immigration officer, and such officer approved your entry. Entering with a valid visa that has since expired still counts as a lawful entry.
Third, and for family preference applicants, there needs to be an approved Form I-130 Petition for Alien Relative, and a visa number available. Immediate relatives of U.S. citizens have more leeway, however, and may file their adjustment of status application together with the I-130 petition.
Application Process
Filing Online
Go to the USCIS website and click on the "Forms" header
Fill out the entire form and pay all applicable fees
Receive case updates via post and email
Respond to requests for additional evidence
Filing by Paper
Print out the Form I-485 online and make sure you have all pages upon filling out
Make sure to sign your name at the end of the form, use black ink
If you make an error, start over with a new, clean form
Mark the envelope and the cover letter with the nature of the submission
Required Documents
1. Personal Identification Docs
A copy of a government-issued ID with a photograph
A copy of your birth certificate (if unavailable or does not exist; provide other acceptable evidence of birth such as church, school, or medical records)
Inspection and admission, or inspection and parole documentation
Certified police and court records of all criminal charges (if none than not applicable)
Documentation of immigrant categories, such as a copy of Form i-797
2. Proof of termination of prior marriage(s) (applicable for marriage purpose)
Any of the below can serve as the proof varying by situations: 
a divorce decree
a death certificate of the other spouse
a certificate of annulment
3. Proof of an official name change (if applicable)
Any of the below can serve as proof:  
a marriage certificate
a court order of name change
adoption papers
4. Petitioner's passport photos*2 (if applicable)
For family-based applications, every sponsor (petitioner) needs to provide 2 passport-style photos (2 inches by 2 inches) with their Form I-130 petition. These photos are apart from any other application requirements you may be filing at the same time as Form I-130.
5. Additional Document (if applicable)
Confirmation of a job offer
Form I-864, Affidavit of Support (if married)
Form I-212, Application of Permission to Reapply for Admission into the U.S. after Deportation or Removal
Documentation regarding J-1 and J-2 visitor status
Form I-508, Waiver of Diplomatic Rights (if working in a diplomatic capacity or with NATO)
Form I-566, Interagency Record of Request (if you have an A, G, or NATO nonimmigrant status)
How Much Does an Adjustment of Status Cost?
The fee for filing I-485 varies based on the applicant's identity and age. The below table roughly lists the different fees for different type of applicants. You are also free to check out the exact fee via USCIS's Fee Calculator.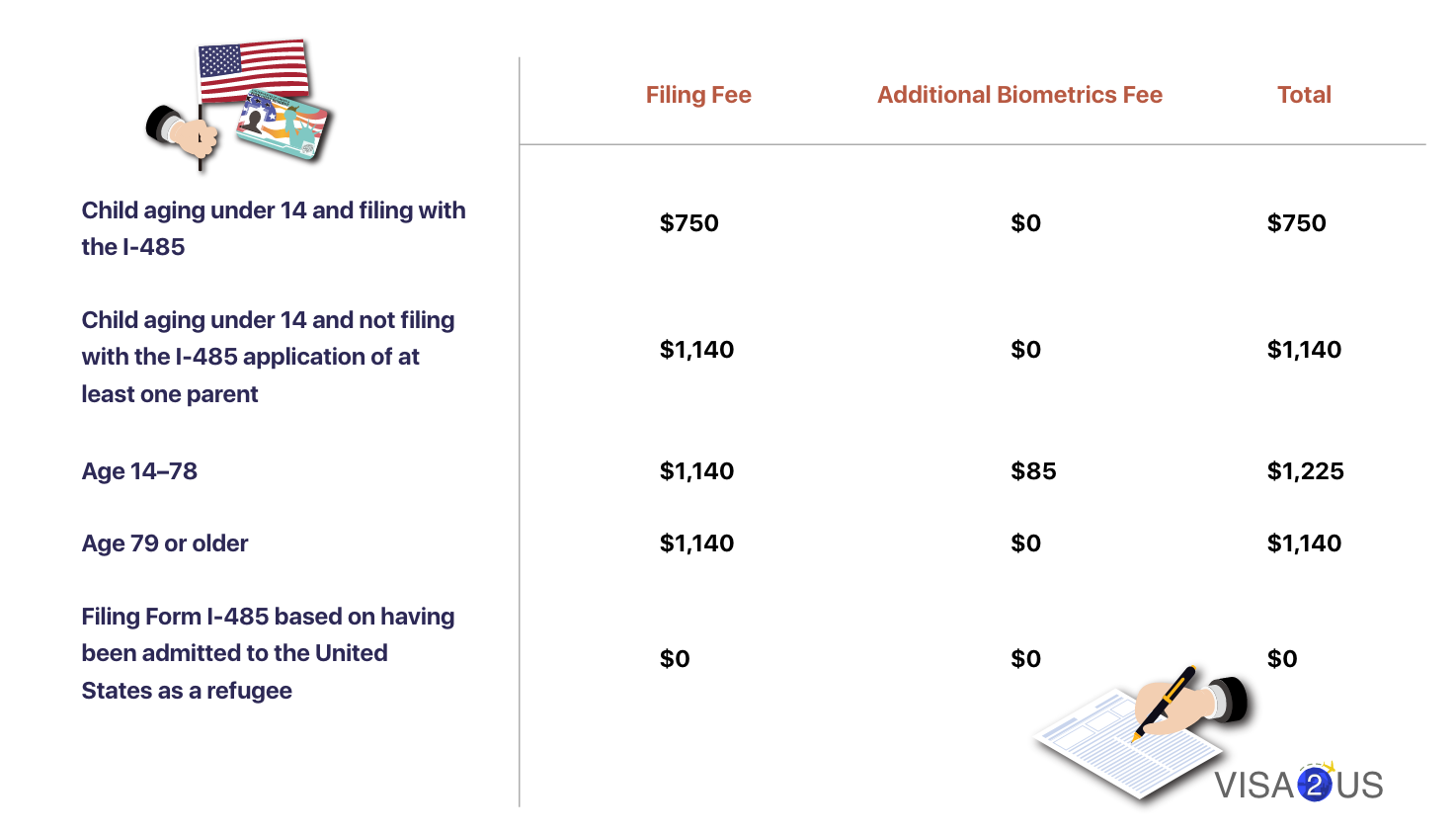 Application Timeline
Because adjusting status to become a lawful permanent resident of the United States is a big step, the timeline of events has many steps and components:
1. Submit the application form: I-485 and wait for the Receipt Notice (Form I-797) from USCIS.
The first step is getting your receipt of the application, if you have properly filed, by mail, approximately two to three weeks after you initially filed. At this time, an individual may be asked to submit additional materials if their application looks complete according to the USCIS.
2. Receive Biometrics Appointment Notice 
Approximately 3 to 5 weeks after filing, you can expect to receive an appointment notice for your biometrics (fingerprints). This is a basic security clearance and background check performed as part of the Green Card/I-485 process. Biometrics information confirms your identity.
3. The Applicant Attends the Biometrics Appointment
5 to 8 weeks later is your actual Biometrics appointment. Bring a passport or National photo ID issued by your country to obtain access to the building.
4. Receive your Employment Authorization Document (EAD) (if you apply with Form I-485)
After the appointment and approximately 12 to 16 weeks after filing, you may receive your Employment Authorization Document (EAD,) if you have applied one with your Form I-485. In more common terms, most people refer to this as a "work permit". With such a card, you can work in the United States and also travel outside the U.S. according to the criteria of advance parole. The work permit gives non-citizens more flexibility as they continue waiting to hear about their green cards.
5. Green Card Interview Notice
Perhaps the biggest gap in time that occurs after filing is the Notice of Interview. This notice can appear in the mail anywhere from 4 to 10 months after filing, so expect variability if you're in the middle of the process. The interview is another standard procedure. The type of case presented to the interviewer will influence your chances of receiving a Green Card, and the interview can be waived entirely by the USCIS.
6. Green Card Interview Appointment
Adjustment of Status Interview- occurs approximately 6 to 12 months (one year) after filing. Make sure all of your information from your I-485 is up to date. You can also check out green card interview guideline (employment-based and marriage purpose) for more details of what to take place during the interview.
7. Receive your Result
After the interview, you may be granted permanent residence, but in most cases, USCIS will take further evaluative measures and either mail your Green Card or mail you a letter explaining your adjustment of status denial. You may need to wait an additional 2-3 weeks after your green card interview to receive the final status of your I-485 application; to put it simply, the result usually comes out between 8 and 14 months after filing. You will receive your green card in the mail, at the address provided on your application at the very end of the process. It is possible to receive your green card also at the end of the interview, as noted above.
Track Case Status and Processing Time
To track your case status, you can do it: 
1. Online
If you currently reside in the U.S., you can check your case status via USCIS's website with the receipt number that came with the Receipt Notice.
If you currently reside outside of the U.S., you can check your case status via NVC's "Consular Electronic Application Center" (CEAC) website with your Immigration Visa Case Number. 
2. By email
This option is only available if you applied from outside of the U.S. You can request your application status update through the NVC's questionnaire that will ask for your NVC case number or USCIS receipt number, your name, your employer or sponsoring relative's name, and your birthdate; after filling out the questionnaire, you will receive a response in your email. 
3. By phone
If you are in the U.S., call the USCIS Contact Center at 1-800-375-5283. If you have hearing/speech impairment, call TTY at 1-800-767-1833. Make sure to have your A-Number, USCIS Receipt Number available during the call. 
If you are outside of the U.S., please check the NVC website for the agency's most current hours of operation. You can reach the NVC at +1-603-334-0700 during the agency's hours of operation. The waiting time can be longer than 30 minutes during times with high call volumes. Make sure to have your NVC case number or USCIS receipt number ready at the time of your call. 
4. By mail
USCIS will send out official notifications regarding your case, so make sure your mailing address is correct and reachable.
5. In-person
If you are looking for additional information or answers to more specific and complex questions regarding the pending green card application status, it is recommended that you apply for "InfoPass" appointments with a USCIS field office to talk to a USCIS in person. However, this process can be more complicated than the aforementioned options. 
If you are applying from outside of the U.S., you can still apply for "InfoPass" under certain situations through the USCIS InfoPass Website.
What's next
Once you receive your green card, you are granted the rights to live/work permanently in the U.S.; you are also responsible to file your income tax return according to the U.S. laws. Further details regarding the rights and responsibilities for a permanent residence are listed on USCIS website. You can also check the rights/tasks you can accomplish as a green card holder, such as applying green card(s) for your children, etc.