I-130 Family-Based Green Card Guide
Get your Family-Based Green Card with Visa2us
Family-Based Green Card
With a few clicks, make the application a pleasing journey to the U.S.
Family-Based Green Card
If you are a U.S. citizen or green card holder, you may apply for a family-based green card for your family members through specific family relationships.
Before we get started…
A family-based green card is a permanent resident card for those who have a qualifying close relationship with a U.S. citizen or LPR already. In order to pursue a green card via the family option, applicants first need to have a sponsor—somebody who is willing to fill out an I-130 Petition as well as a financial support document (more commonly known as an Affidavit of Support).
Family-based green cards are not simply authorized to applicants who have a sponsor though. These applicants also need to not be inadmissible to the United States based on the following criteria:
Having all of the required medical documentation and up-to-date vaccination records
Not having a record of convictions of other crimes
Not having a party affiliation with a terrorist organization
Not having a party affiliation or group membership with a totalitarian party
Not constituting what the USCIS would consider a public charge based on the definition the USCIS sets out in relation to one's previous usage of government benefits
Not committing fraud or lying on any government forms or documents (this includes marriage fraud) 
Mentioning the above is not supposed to scare applicants. It is rather to let them know that applying for a family-based green card comes with risks and rewards. You are risking your time and money, but the reward is permanent residence in the U.S. and a new starting off point.  
Processing Times
The average processing time for an I-130 petition is 10 months as of 2020. A short wait time for an approved I-130 would be around 6 months.  
For consular processing applicants, once the NVC has made contact and an immigrant visa number is available, expect wait times to be between 4-6 months. This is the time from pre-processing to after your immigrant visa interview at a U.S. consulate or embassy.
The I-485 application (adjustment of status) is the longest processing time out of the three. The online consensus right now is that the green card application takes between 8-14 months for a decision to be made.
Estimated Costs
Since we have mentioned some of the risks, such as fees associated with any family-based green card process, let's break these down further:
I-130 Petition—Needs to completed by U.S. Citizen or LPR, $535
Consular Processing Fees—For International Applicants only going through the NVC. $325 State Department fee for processing, as well as $120 for Affidavit of Support fee. 
Medical Exam Appt.— For Domestic and International Applicants. This price can vary. On some sites, you will see an average of $200 for a visit. Note what doctors visits usually cost in your country (as well as vaccinations) and factor in insurance rates.
I-485 Application—Your adjustment of the Status Application, if you are based in the U.S., will be the most expensive part of the process. The I-485 costs $1140 to submit. This is not including an $85 Biometrics fee.
I-864 Affidavit of Support— $0 if you are filing an I-485 application and have already paid that fee. The State Department will charge international applicants $120 as mentioned.
I-601 Waiver of Inadmissibility— If you need to submit a waiver of inadmissibility along with your I-485 application, the fee is $930.
Form I-944, Declaration of Self-Sufficiency— $0 when filing with your I-485 application.
Required Documentation
Petitioners who are filing an I-130 for a family member need to show evidence to the USCIS of their confirmed U.S. citizenship or legal residence in the United States. Click here to see our I-130 guide. For any family-based immigration process, this is a key step. This can be done by attaching the following to the I-130 Petition:
A scan or photocopy of your U.S. passport (photo page)
A scan or photocopy of your permanent residence card (green card)
Marriage green card applicants are also technically included in the family-based process because spouses are immediate relatives according to U.S. immigration law. In this instance, petitioners also need to show evidence of their marriage (certificate) and any previous divorce certificates (if applicable, for both the petitioner and beneficiary). 
In lieu of a consular processing interview, or a USCIS based green card interview, applicants should bring the following:
A sealed envelope from their approved panel physician visit with a signed and completed I-693, Report of Medical Exam
The interview appointment letter received from the NVC (for international applicants only)
Passports, State ID
2 Passport-sized photos
Proof that your marriage is real (if applicable)
Evidence of relationship to U.S. citizen or green card holder 
Figuring out a family-based green card application can be confusing. No worries, here we list all the forms you need to submit in different circumstances.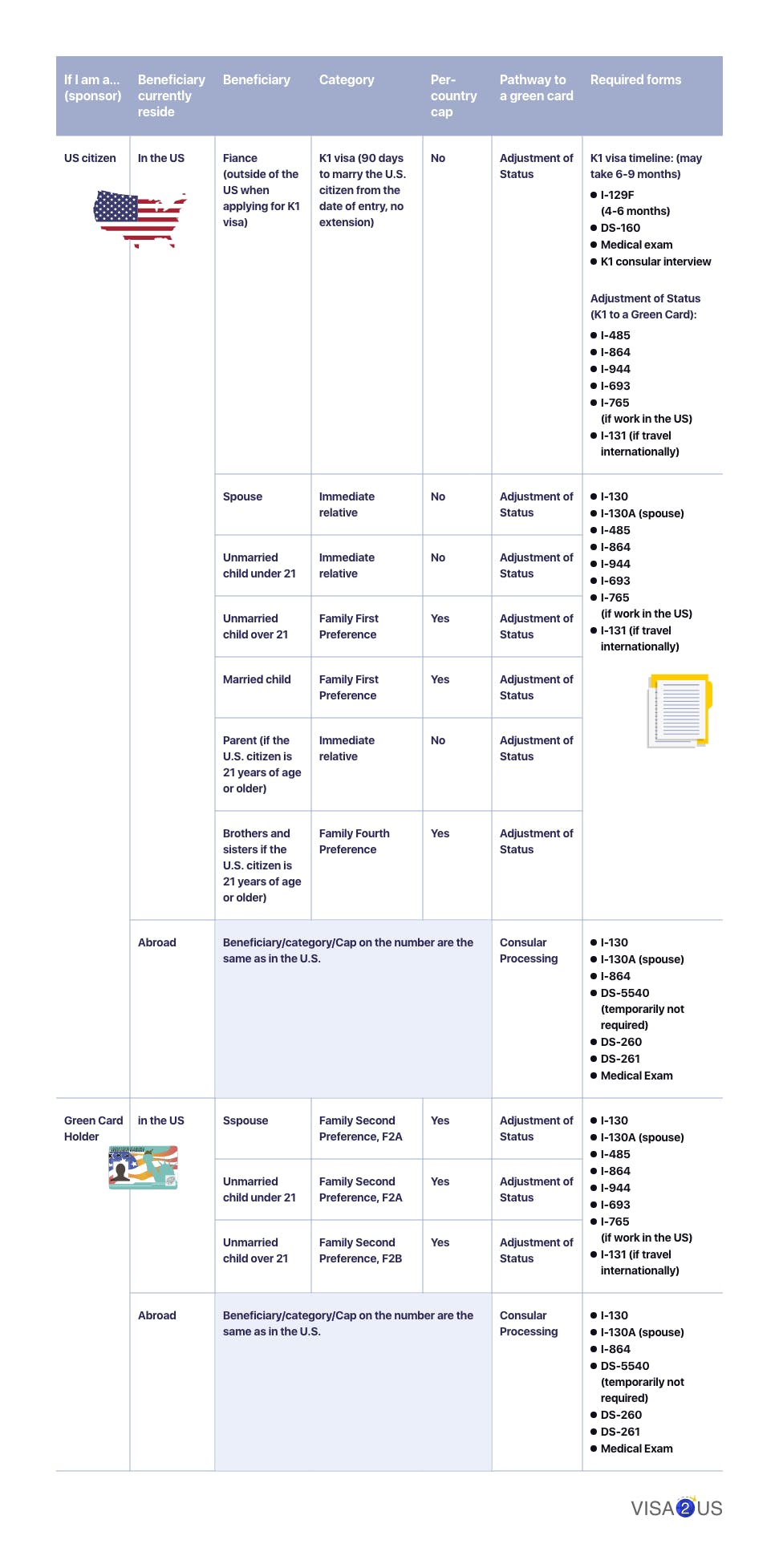 Tracking Information and Other Resources
As mentioned, you cannot file your I-130 Petition via the USCIS online account system. It needs to be mailed. As such, applicants are encouraged to attach Form G-1145 eNotification to the front of their application.
For more information on how to know where to mail your application, it varies by U.S. state: https://www.uscis.gov/i-130-addresses.
In addition, if you need to submit a case inquiry, change an address on your application, or make any other updates, the USCIS also has a helpful Case Status Tracker, available here: https://egov.uscis.gov/casestatus/landing.do. You'll need your respective case number receipt to track an application you have submitted.
For consular processing applicants, the CEAC login is available here: https://ceac.state.gov/IV/Login.aspx. This is an important way to track the case status of your DS-260 and other documents submitted to the State Department.
Additional resources to contact the NVC: Call 1-603-334-0888. Note: Only English-speaking representatives are available on this line. Wait times may exceed 30 minutes.
Here is a list of direct filing addresses for I-485 applicants: https://www.uscis.gov/forms/all-forms/direct-filing-addresses-for-form-i-485-application-to-register-permanent-residence-or-adjust-status.
FAQs
Questions? We answered some of your most frequently asked questions.
In terms of wait times, which family-based immigration category has the fastest priority date?
Where can I access the Visa Bulletin to see how when my date for filing will be?
What is the difference between "Current" and "Oversubscribed" when reading the Visa Bulletin?
What is the rule regarding who is considered a child in U.S. immigration law?
Is the Public Charge rule still in effect?
What is meant by the term "immediate relatives" in USCIS terms?
Do immediate relatives require their own I-130 petition?
When is the difference between a derivative and principal applicant?
Is a stepchild an immediate relative?
Are adopted children considered a derivative?
Is there a green card interview for parents?
How can I find my electronic I-94 record?
Family-Based Green Card
If you are a U.S. citizen or green card holder, you may apply for a family-based green card for your family members through specific family relationships.
Skip the research part of your immigration application.
Simply answer questions we prepared for you and the completed forms are ready!
Do It Yourself
A Comprehensive Guide for
Family-Based Green Card
Wish to prepare and file application on your own? No worries! We will guide you through every step in preparing your application.
Application Process: Step by Step Guide
Learn how to complete the forms to make your application process go smoothly.
Contact Us
888-666-3960
Customer Service Phone Office Hours:
Monday ~ Friday
6:00 AM to 6:00 PM Pacific Time Zone
VISA2US Headquarters
600 Stewart Street Suite 400, Seattle, Washington 98101, USA (Plaza 600 Building)