If you are seeking an immigrant visa for travel to the United States, you might be interested in knowing what the current situation is with consular processing backlogs—and more specifically the State Department's visa affairs. In short, immigrant visa backlogs remain a pertinent issue for the State Department. Over the past year, the short staffing and full closures of U.S. consulates and embassies around the globe as Covid-19 was taking its toll, has resulted in additional pileups of applications that now need to be attended to. This has meant that as U.S. consulates begin to re-open, they are dealing with the burden of past and present visa applications, and trying to get back up to speed in their processing.  
In this blog, we will provide an update as to what is going on with U.S. consulates and how severe the backlogs are per NVC data available. Even though consulates are up and running again around the world, local and national restrictions have affected the movements and ability of people to attend interviews in many parts of the world.
Whose Priority?
As mentioned in a previous blog, the USCIS in agreement with the State Department have decided to prioritize immigrant visa applications (IV) as Tier One cases that will be handled over non-immigrant visa applications. This means that if you have an approved petition with the USCIS in an immigrant visa category, and it is documentarily approved with the National Visa Center (NVC), your case is a top priority for U.S. immigration right now. Let's take a look at what this means in terms of numbers.
Backlog Statistics
Here is the latest data as of July 2021, according to the National Visa Center: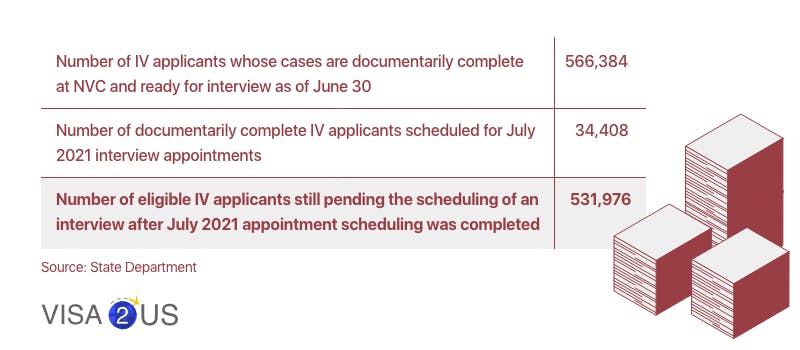 As you can see from the table above, even after this month comes to an end, there will still be significant immigrant visa (IV) backlogs. At the current rate, and given that the amount of appointments per month stays the same, it will take up to 15 months to schedule the remaining eligible immigrant visa applicants for a consular appointment.
However, given that there are only 6 more months in FY 2021, it is likely that only up to 50 percent of the approximately 531,000 eligible IV applicants still pending an interview after July 2021 will see a visa interview by the years end.
Visa Issuing Posts
One helpful way to determine which U.S consulates are open, and what kinds of visas are being issued at respective locations is to use the following link available on the State Department website: https://travel.state.gov/content/travel/en/us-visas/visa-information-resources/fees/visa-issuing-posts.html.
As you scroll down the list, the "E" next to the name of the duty station refers to the fact that it is a U.S. embassy, whereas "CG" refers to a consulate general. Under the service column, "All" refers to the fact that the station is processing both immigrant and non-immigrant visas. "NIV" specifically refers to non-immigrant visa processing. If you are seeing that the U.S consulate or embassy is closed or is not issuing visas at this time, you will need to exhaust other options and perhaps make contact with the next closest embassy or U.S. consulate for processing.