If the USCIS is able to cut many of the extreme backlogs associated with its applications, it will have wide ranging effects on immigrants and non-immigrants living in the United States, as well as employers looking to hire foreign talent. To date, some of the most common problems associated with extreme wait times and USCIS extended processing is that immigrants lose the ability to have working authorization in the United States (i.e. financial problems), or they lack the stability of humanitarian protection they greatly need. Backlogs also have an indirect effect on the U.S. economy when employers are unable to hire foreign talent, or have backlogged cases for non-immigrants who are looking to extend their stay in the United States. These issues trickle down into the labour market one way or another.
Additionally, USCIS backlogs often affects immigrants in the United States disproportionately when it comes to being able to leave the country—for instance if an immigrant wishes to see family members in their country of origin. Because green card applicants might be waiting for longer than 12 months (which has become extremely common) for the USCIS to adjudicate their green card application, such applicants are often stuck in a limbo phase, as they will not be able to leave the country if the USCIS issues a request for evidence (RFE) or calls them into a processing center on behalf of their application. Missing a critical appointment simply isn't worth the risk for those who have already paid for their I-485 application.
The administrative answer from USCIS leadership at the end of March for these plethora of issues was to come up with a "new cycle time goals" program that the agency plans on rolling out through fiscal year 2023. The new cycle time goals is an ambitious effort to get processing times down by several months on behalf of family based, employment based, immigrant, non-immigrant, and naturalization applications. The agency plans on making this possible through additional agency wide hiring.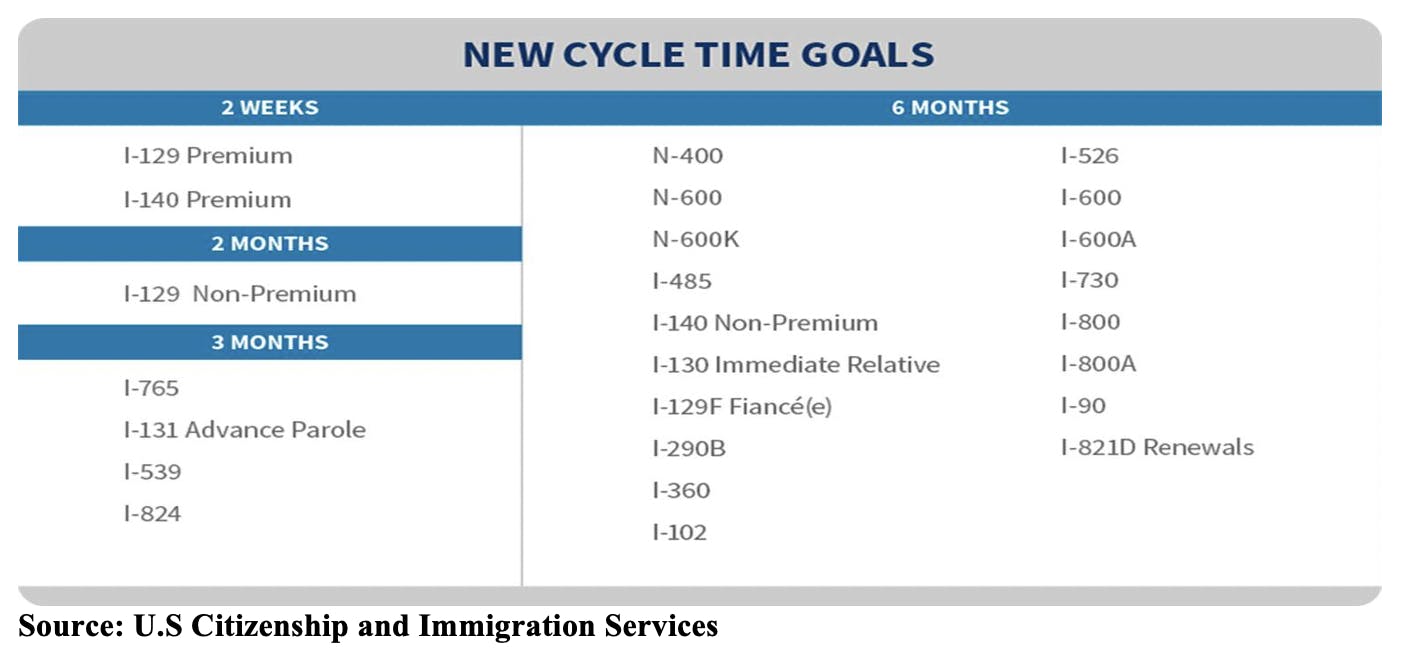 As you can see above, the new cycle time goals are hopeful to say the least. For example, the USCIS plans on getting work permit authorization applications (I-765) down to a processing time of 3 months. This would be a major boost to immigrants who, in 2021, were seeing wait times of approximately 9-12 months for their I-765 application.
Other ambitious targets include getting the I-485 application, as well as the N-400 application for naturalization both down to 6 months of processing time. In addition, the USCIS has proposed new 6 month cycle time goals for employer petitions, such as the I-140 to sponsor an immigrant worker to come to the United States, as well as the I-129F, the petition used to sponsor a fiancé visa.