Introduction 
If you are a married couple where one of you is a U.S. permanent resident and the other one is a foreign national living in the United States, this is a guide tailored to walk you through the application process of applying for a marriage green card. 
Before you continue with the following content, make sure to first go through our general overview of the marriage-based green card application process to confirm that this is the right application type for you!
Estimated time
29 - 38 months total (11 - 15 months on establishing the marriage relationship, 8 - 10 months of the waiting period, 9 - 11 months on the processing of I-485, and 1 - 2 months for USCIS to schedule the interview. 
**Please note that due to COVID-19, the estimated processing time may vary.
Estimated cost
If you are uncertain about whether or not you are eligible for a marriage green card, you can easily determine it through our quick eligibility test!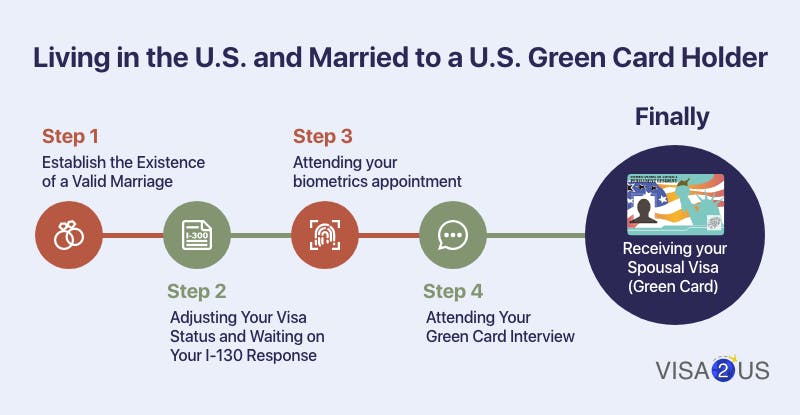 Step 1: Establish the Existence of a Valid Marriage 
To start your application, you must first submit Form I-130 to the USCIS to establish the validity of your marriage. Click here to know more about Form I-130.
The spouse with U.S. green card will be referred to as the "sponsor" or "petitioner" in the following guide, and the spouse with the foreign nationality will be referred to as the "beneficiary." 
During this step, the sponsoring spouse will complete and submit the Family Sponsorship Form (I-130) and Supplemental Information Form (I-130A) along with the $535 fee and supporting documents as listed:
Supporting Documents (Required and Optional) 
Proof of U.S. Citizenship of the sponsoring spouse (choose one of the following): 
U.S. birth certificate;
Valid U.S. passport;
Naturalization Certificate;
Certificate of Citizenship;
Consular Report of Birth Abroad.
Proof of valid marriage (choose one of the following): 
Marriage certificate;
Joint leases;
Joint bank account statements;
Photos of you together;
Letters from friends and relatives proving your relationship.
Proof of domicile from sponsoring spouse
Passport photo of the beneficiary spouse  x2
Proof of termination of prior marriage(s) (Optional):
a divorce decree;
a death certificate of the other spouse;
a certificate of annulment.
Proof of official name change (Optional):
a marriage certificate;
a court order of name change;
adoption papers.
Proof of nationality of the beneficiary spouse
Birth certificate
Passport photo page
Copy of military records (if applicable) 
Copy of police certificates (also known as police clearance letters) 
After completing your I-130 package and making sure you have all the required forms, supporting documents, and payments for the government fees, mail the completed package to the right USCIS address. You will receive a receipt notice from the USCIS when your application is received, and if you are missing any documents, you will receive a "Request for Evidence" within 2 - 3 months. Once USCIS receives all the materials they need, you will receive your I-130 petition decision in 11 - 15 months. 
**Please note that due to COVID-19, the estimated processing time may vary.
Step 2: Adjusting Your Visa Status and Waiting on Your I-130 Response
Since the beneficiary spouse is in the United States, you will need to file Form I-485 that helps establish the eligibility for a green card for the beneficiary spouse. Do not wait to file this form because as a green card holder (and not a U.S. citizen), an extra waiting period will apply. 
Checking the Visa Bulletin
There is an annual cap of how many green cards are available each year, so you and your spouse will need to wait until the U.S. State Department determines availability before submitting your I-485 green card application package. 
Check the monthly visa bulletin on the State Department website to see when a green card availability opens up! Keep in mind that as you wait for an available green card, the beneficiary spouse will need to maintain a lawful immigration status in the United States, otherwise, they may not be eligible to file green card applications. 
When a green card is determined to be available
Once there are greed cards available, you will need to complete the following forms along with the supporting documents for your green card application to be ready: 
All forms can be downloaded from the USCIS website:
Green card application form (I-485) 
Financial support form (I-864) 
Declaration of self-sufficiency form (I-944) 
Work permit application form (I-765) 
Travel permit application form (I-131) 
Getting the Medical Exam
All spouses seeking a green card need to complete a medical exam. You can choose to complete the exam before you file your application and submit your exam results with your package, or you can choose to complete the exam after you have submitted your application and have your results sent to USCIS or bring it with you to your green card interview. Check out more information about the immigration medical exam.
Schedule an appointment with an USCIS-approved physician by using the USCIS find a doctor tool.
From your doctor, you will receive your results in a sealed envelope along with your vaccination records. Bring the entire envelope with you to your interview. 
Filing the I-485 Application
In your I-485 application, you will need to include $1,225 ($1,140 for Form I-485 and $85 for your biometrics appointment) to pay the fees for the application. 
After you've mailed your package to the proper USCIS address, you will receive an official receipt number from the USCIS (if you've applied for a work and travel permit, you should receive an independent receipt number for each). 
Approval time for the travel and work permit has increased recently, so be prepared to wait for more than 90 days before they are approved. 
Step 3: Attending your biometrics appointment
A month or so after you've submitted your I-485 application to USCIS, you will receive a notice of your biometric appointment. This appointment usually takes place at the nearest USCIS field office to you. This is the part where USCIS collects fingerprints and photographs of the spouse who is applying to conduct background and security checks, and the sponsoring spouse is not required to attend. 
When attending your biometrics appointment, please be sure to bring:
The original copy of your USCIS biometrics appointment notice
Receipt letter of your filed application or petition
Photo identification
Step 4: Attending Your Green Card Interview
Once USCIS has finished processing all your visa application materials, it will then transfer all those materials to your nearest USCIS field office. The field office will then send you an appointment notice with the scheduled time, date, and location of your interview which you and your spouse must attend. 
This is also the final step of your application process! It may seem intimidating, but there are ways that can help reduce your stress by making sure you have an idea of what to prepare and expect during the interview. Find out more about what to prepare and expect with these resources:
If your USCIS officer is convinced of the authenticity of your marriage, they may approve your green card application right away at the interview. But just keep in mind that there's the possibility of other outcomes such as a Request for evidence, additional review, second interview, and denial. 
Finally: Receiving your Spousal Visa (Green Card) 
You will receive your spousal visa (green card) by mail after around two to three weeks of approval. With your green card, you will be able to work legally in the United States and travel internationally without the need for a work or travel permit. 
You will receive one of the following types of green card depending on how long you have been married to your U.S. citizen spouse at the time of your visa approval. 
Married for less than two years ⇒ CR1 (conditional green card) - this green card is only valid for two years. After two years, you and your spouse have to file the "remove the conditions" form together and have USCIS confirm the authenticity of the marriage before you receive a permanent green card. 
Married for more than two years ⇒ IR1 (immediate relative green card) - this green card is valid for 10 years and the process of renewal is usually relatively simple.
Tracking your application
Online: you can check your case status via USCIS's website with the receipt number that came with the Receipt Notice
Phone: call the USCIS Contact Center at 1-800-375-5283. If you have hearing/speech impairment, call TTY at 1-800-767-1833. Make sure to have your A-Number, USCIS Receipt Number available during the call. 
Mail: USCIS will send out official notifications regarding your case, so make sure your mailing address is correct and reachable. 
In-Person:  If you are looking for additional information or answers to more specific and complex questions regarding the pending green card application status, it is recommended that you apply for "InfoPass" appointments with a USCIS field office to talk to an officer in person. However, this process can be more complicated than the aforementioned options. 
If you're ready to apply, VISA2US can guide you through every step of the marriage-based green card application process from the beginning to the end. Find out more about the services and packages we offer or get started today!