Do-It-Yourself Application
Becoming a U.S. Citizen Through Naturalization
As mentioned, the green card application, to some applicants, marks the beginning of the route to the United States, and the same applies, naturalization can serve as the ultimate goal. Becoming a U.S. citizen through the naturalization is a lengthy process unless one has completed some type of active military service in a branch of the U.S Armed Forces.
Obtaining Citizenship through Naturalization - File N-400
For most cases, besides the essential three to five years of continuous residency inside the U.S., other conditionalities should also be fulfilled such as good moral character, a clean record, a command of the English language, and having received appropriate vaccinations. With all the requirements satisfied, you file N-400 to start the naturalization process. We will cover the details and accompany you through the time-consuming but definitely worthwhile journey.
**Note: This guidance focuses on the common cases, which does not include the types related to military service eligibility. If you fall into such a category, please refer here for further instruction and details.
Naturalization is the process of an individual born outside of the United States becoming a United States Citizen. Filing this form serves as the first step to "naturalization," the process of becoming an American citizen. Form N-400 can be filed either through mail or through USCIS online portal. Either way works and will not affect the final result. Check our form N-400 guidance here.
And who is eligible to file N-400? USCIS has made it clear by listing the below requirements:
Be at least 18 years of age from the time you start your N-400
Be an LPR for at least 5 years as an individual, or 3 years with a marriage green card
Demonstrate continuous residence in the United States leading up to your N-400 application. Be sure to have approximate records of times you have traveled outside of the U.S. and for what purpose
Display good moral character and have a working knowledge of the U.S. Constitution
Be willing to take an oath of allegiance to the United States
When to file for Naturalization?
You can file as early as 90 days before the end of your five years, or three years,  if you are applying based on your marriage green card, of residence period within the U.S as a green card holder, (as expected, there is the premise that you have met all the eligibility requirements!)
How to determine your earliest filing date? You can find the date on your green card (after "Resident Since".) Add three of five years, whichever fits your eligibility criteria, and lastly, subtract 90 days. Still feeling uncertain? You can also refer to the calculator from USCIS to help you check your 90-day early filing date. The "Anniversary Date" is the date you suppose you can start filing a naturalization form, and "Earliest Accepted Filing Date" is your 90-day early filing date. For instance, if you receive your green card on August 1, 2015, with no special conditionality, then your wait period is five years. Accordingly, you will become eligible for naturalization on August 1, 2020; therefore, your 90-day early filing date will be May 3, 2020.
Required Documents:
The main list is not long, however, depending on your eligibility category, you will need to provide extra information. The lists apply to both paper and electronic filing. 
- Form N-400
- Copy of Proof of your residence validity 
Green card
Passport issued in another country and bearing stamp of temporary permanent residency in the United States
- Federal Tax Return Information/ Income Verification
- Proof of Residency— a Scanned Copy of the Current Lease you are on if living in an apartment
- Proof your spouse was a U.S. citizen for the last 3 years or Marriage Certificate 
- Proof of termination of prior marriage(s), if applicable, 
a divorce decree
a death certificate of the other spouse
a certificate of annulment
- Proof of official name change, if applicable, 
a marriage certificate
a court order of name change
adoption papers
- A written court statement: If an arrest or conviction has been removed from your record, this statement proves that no charges were filed.
- Proof of registering with the Selective Service (if applicable:) If you are a male under age 26 who lived in the US since age 18 and did not register with the Selective Service, please provide Status Information Letter from Selective Service System.
- Petitioner's passport photos*2: Every applicant needs to provide 2 passport-style photos (2 inches by 2 inches)
- Form N-648, "Medical Certification for Disability Exceptions." The form grants you the exemption to the U.S. citizenship test because of physical or developmental disability or mental impairment (if applicable.) Please complete Form N-648 with the signature of a licensed physician or clinical psychologist.
- Other supporting documents related to the above documents (if applicable.)

Which way to take? Paper or online submission?
To file N-400, you also have two options to go with: through paper or electronic filing. As expected, online filing is easier and you can instantly receive the latest updates and information from USCIS through your USCIS account. If you plan to go with paper filing, you can also create a USCIS account to keep yourself updated with the latest notices and ensure smooth communication with USCIS. Here's how!
Apply through paper filing
Download the form from USCIS website, have all the necessary documents printed, assemble and envelope them in a packet, and mail to the specified USCIS Lockbox. 
Complete the form 
We have the comprehensive guide in filling out the form, check our form guidance here. Few tips to keep in mind during your preparation:
Make sure you download the current version of forms. USCIS will reject any application using the outdated form. 
If you decide to print the form out and hand write your application, please use black ink and do not use highlighters or correction fluid or tape. If you make the error, please start with the new form. 
If you are filing multiple forms, make sure you state your name, date of birth, and A-number (if any) in the same way on each form. 
Pay the correct fee. USCIS will reject forms submitted with incorrect or incomplete fees. Make sure the amount is correct before you make the payment. Currently, the filing fee for Form N-400 is $640, plus $85 of biometric services. You can also use the Fee Calculator to check the latest updated fees for each form. 
Send single-sided copies of the application(s). 
After you get all your documents and forms completed, you can start the next step: assemble your application.
Assemble your application I - Preparation
Pay the fees
Credit card: 
File Form G-1450, Authorization for Credit Card Transactions. 
USCIS only accepts the below credit cards: Visa, MasterCard, American Express, and Discover. Make sure the card has enough money to cover the fee at the time of filing. Your petition/application may be rejected if your card is declined, and the card will not be accepted and processed by USCIS a second time.
Check/Money order: For applying in the U.S., you should mail your check/money order with your application form. Also be sure that the office you contact is available to proceed money order/checks.  
Notification and Form Access
Apply for email/text message notice: Form G-1145, E-Notification of Application/Petition Acceptance
The notification will not include any personal information; it only lists your receipt number and tells you how to obtain case status information.
The service is only available for forms filed at the three USCIS Lockbox facilities located in Lewisville, Texas; Chicago, Illinois; and Phoenix, Arizona.
To file the form, please download and complete the form and clip it on the front page of your filing petition form.
Final Check before wrap-up
The supporting documents should either be in English or accompanied by a complete English translation.
Please provide the copies of those documents unless requested by USCIS. Since those documents may become part of the record, it is likely that the originals may not be returned to the applicants.
All attachments are required to have your name and A-Number (if any) listed. Numbering the pages is also acceptable (for example, "page 1 of 11.)
Assemble your application II - Wrap-up
Envelope the application
Envelope the application: Mark the envelope and the cover letter with the category/nature of the submission. For instance, Original Submission, Brief for an Appeal, or Response To Request for Additional Information. Furthermore, the form number is required (e.g., Form -130.)
Wrap up in the packet
Use fasteners to hold together thick or bulky applications/petitions. Two-hole punching the top of the material for easy placement in the file is appreciated. Avoid using heavy-duty staples, binders, or folders that make the documents hard to disassemble. 
Sticky tabs/notes help in locating items listed in your attachments. Please place the tabs/notes on the bottom of the page, not the side.
Do not submit oversized documentation unless it is necessary.
Be sure to make different cases separated by fasteners or rubbers if you are delivering them in the same envelope.
If you are re-submitting the packet in response to a Request for Evidence (RFE), please place the notice requesting the additional evidence/information on the top of the packet. Also, please use the special mailing envelope provided.
If you are submitting evidence in support of a previously filed appeal or motion, place a cover letter with "Brief for (Appeal/Motion)" on top of the packet.
Mail Your Application, Petition, or Request 
Mail your forms to the address listed on that form's webpage (where to file section.) You may submit your forms through USPS, FedEx, DHL, or UPS. If you mail to the wrong filing address, USCIS has the right to reject your application/petition as improperly filed and return it to you to re-file. If you choose the U.S. Postal Service, certified mail with a return receipt is the safest way to send your petition.
**Reminder: Make sure you keep a copy of your completed N-400 before you submit it to USCIS. The citizenship interview will target those answers based on your application. It's essential that you are well aware and memorize those details before attending the interview.
That's all for paper filing. Should you have any questions, feel free to leave us a message :)
What a workload for paper filing, get dizzy? If so, you may prefer the online application more, and here's how: 
Apply Through Online Filing
Create your own account on the USCIS website. Log in the account, complete the form, upload all the necessary documents, and submit your application on the same platform. Sounds easy, right? It is, we'll show you below!
Create the USCIS Online Account
To start completing Form N-400, please create a USCIS account. You can find the guidelines on USCIS website. After you create the account, please log in here. USCIS uses a two-factor authentication process. This means that in addition to entering your username and password, you must also enter a one-time password that will be sent to you by email or text message. When you create your USCIS online account, you can select your preference for receiving the one-time password.
Login the Portal
After logging in, please select the form you want to file from the tab "File a form online," and choose "Application for Naturalization (N-400)."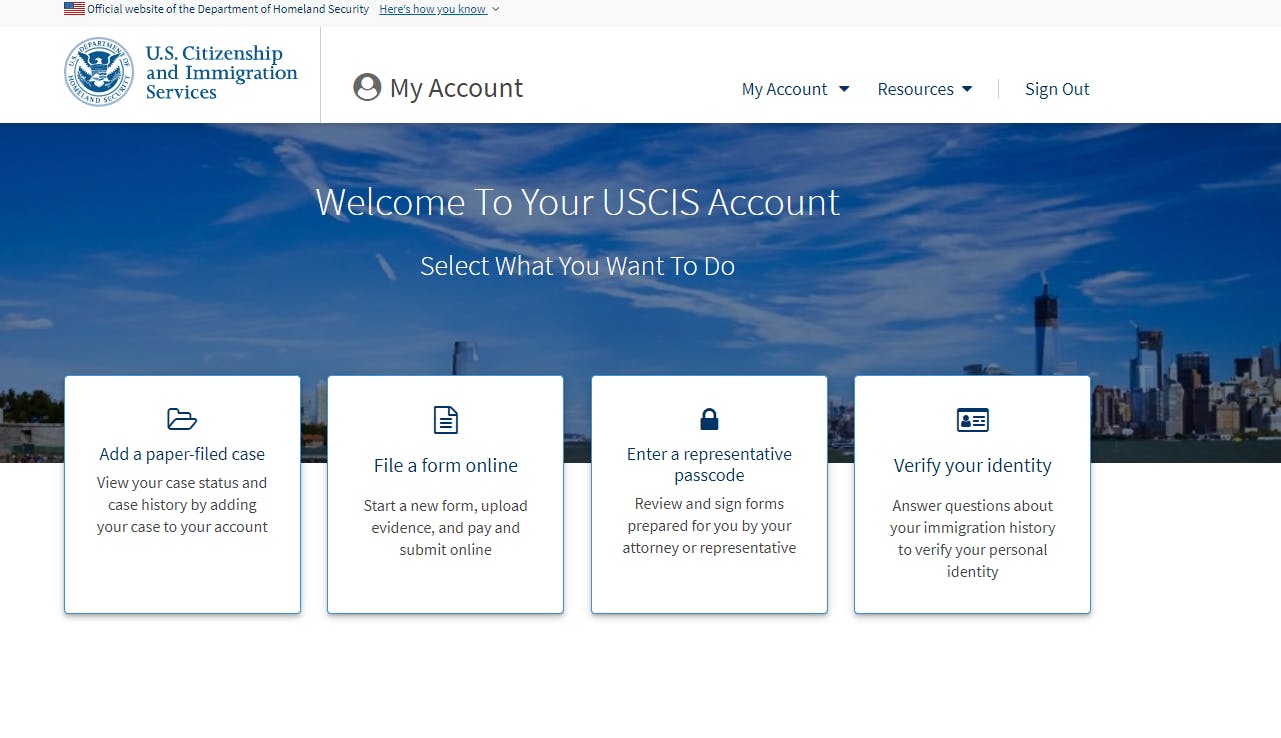 Firstly, there is an initial eligibility examination determining whether you are eligible for the naturalization. The test takes around 1~2 minutes and when you pass the test, you will be directed to the Form N-400 overview.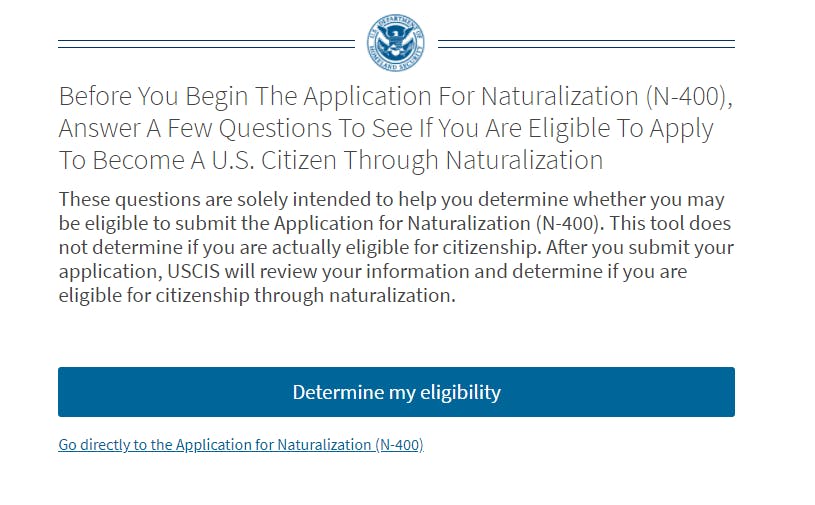 If you are certain about your eligibility, you can skip it by clicking "Go directly to the Application for Naturalization (N-400.)
The overview of Form N-400 is presented below, including the eligibility, fee, process, etc. Please go through those sections carefully before you start completing the form. 
Begin the Form
After you read the instruction, you are directed to the form; each section is listed on the top, and you can click which section you want to begin with. The system automatically saves your response, and you can leave and log in to continue your application whenever you wish. USCIS may reject your form if there is any blank field or if you do not sign your form. Please make sure all the fields are completed and preferably, provide as much information as you can.

In the tab "Evidence," you can upload your supporting documents here for USCIS's reference. These documents help USCIS evaluate your form and verify your answers. If the document is not requested, then you do not need to include it.
**Tips for uploading supporting documents**
Use a scanner or take pictures of each document. Make sure each image is clear and that all text is readable.
Files larger than 6MB in size is not acceptable.
Files must be in one of these formats: PDF, JPG, or JPEG, TIF, or TIFF.
Do not encrypt or password protect your files.
If the supported documents are in a foreign language, please upload an English translation along with the original.
If we require passport-size photos, you must either scan them or take a picture with your phone.
Submit the Application
In the last tab "Review and Submit," please go through all the summary of the information you provided in your application. You can also download the form in pdf format for your record and review. (This also serves as the preparation materials for your later citizenship interview.) 
After that, you need to digitally sign your legal name (first, middle, and last names) in the specified blank.
You're not far from completion! Finally, the system will initially screen your data to check if there is any missing information. Once you are ready to submit your application, the system will automatically direct you to the secure Department of Treasury site, pay.gov. To pay your fees online; you can pay the fee with a credit, debit, or pre-paid card. There is no need to file Form G-1450. 
What's Next (similar to that of filing Form I-485.)
After you submit Form N-400, you will receive the receipt notice, either through mail or email (check your USCIS for updates!) During the time, you may also receive contact from USCIS asking for further information or supported documents through Request for Evidence (RFE,) if necessary. 
The next notice will be the biometric appointment, which contains your biometrics appointment date, time, and location. Arrive at the designated location at the scheduled time to have your biometrics taken. 
This biometric appointment comes weeks later, and this is a basic security clearance and background check performed to confirm your identity. Bring a passport or National photo ID issued by your country to obtain access to the designated location.
Once completing all preliminary processes, USCIS will schedule a naturalization interview with you. The interview will largely focus on the information you provided on your Form N-400, so be sure to get well prepared for it.
Naturalization interview: including the eligibility interview, civic test, and English reading and writing tests. Visa2US get it all prepared in the naturalization interview tips. 
Result and Next Step
1. The long-awaited (usually takes roughly 4 months) result notice comes out: 
Granted: Congrats! Your naturalization application is done and approved! 
Continued: This means that USCIS is not satisfied with the data you provided. You will need to provide additional evidence/documentation for further examination. Don't give up and follow the instructions to provide the requested information. 
Denied: the USCIS will deny your Form N-400 because the evidence in your record establishes you are not eligible for naturalization.
2. Receive a notice to take the Oath of Allegiance. 
You may get your application approved right after your interview, and you can thus participate in the naturalization ceremony soon after your interview. It may also be arranged later if the current date is not available. You will receive the notice with the date, time, and location of the ceremony. 
3. Take the Oath of Allegiance to the United States
Attending the Oath of Allegiance ceremony is mandatory as the final step of the naturalization process. You must satisfy this requirement of U.S. citizenship in order to naturalize and become a U.S. citizen. You will need to hand in your permanent residency card (green card;) in exchange, you'll receive the Certificate of Naturalization (Form N-550.) 
Lastly, well done, upon here, you are a U.S. citizen!
New Beginning
You finish your naturalization, but there are new tasks for new citizens! Here are some:
1. Apply for U.S passport
You can apply for a U.S. passport from the U.S. Department of State. You will need to submit your original Form N-550, Certificate of Naturalization, AND a photocopy when applying for your U.S. passport. You can either apply it through mail or in-person to the nearest passport acceptance center. If necessary, you can also apply for a U.S. passport for your child under the age of 18, who automatically acquired citizenship based on your
Naturalization. For further information please refer to Travel.State.Gov.
2. Update Your Social Security Record
To update your Social Security record, be sure you start your application 10 days after your ceremony so that your new citizen record will be updated within the system. During your application, you also need to provide your U.S. passport and Form N-550. You can either mail your application or pay a visit at the nearest Social Security office for the updated application. With the updated SSN and record, you can start working, collecting Social Security benefits, and receive other government services. For more detailed information please visit SSN website. 
3. Register to Vote
One of the differences between a permanent resident and a U.S. citizen is the right to vote. Once you become a citizen, you can register to vote, either applying in person, by mail, at public assistance offices or when you apply for or renew your driver's license. Visit the
U.S. Election Assistance Commission's website for more information.
4. Sponsor Family Members to Come to the United States
Upon completing your naturalization application and becoming a U.S. citizen, you may petition for certain relative(s) to become lawful permanent residents, that is, the green card holder. To begin with, you need to sponsor your relative(s) and prove that you have enough income to support your relative(s) in the U.S. You can find the guideline on USCIS website. There are other information guides regarding the related application for U.S. citizens.
Visa2US will continue to update the latest information from the U.S. Should you have any questions or concerns, you are always welcome to reach out to our Visa2US attorneys!
Skip the research part of your immigration application.
Simply answer questions we prepared for you and the completed forms are ready!
U.S. Citizenship
If you meet certain requirements, you may become a U.S. citizen via naturalization application.
Contact Us
888-666-3960
Customer Service Phone Office Hours:
Monday ~ Friday
6:00 AM to 6:00 PM Pacific Time Zone
VISA2US Headquarters
600 Stewart Street Suite 400, Seattle, Washington 98101, USA (Plaza 600 Building)