H1-B visa holders in the United States are some of the brightest and specialized workers in the country. Many of these individuals have family members that they wish to bring to the U.S. as well to join them. The process of spouses accompanying their H1-B partner to the U.S. is fairly common and works through what is called receiving H-4 status.
Receiving the H-4 visa also makes it easier later on for one of the marital partners to receive, or at least be eligible for a green card. In other words, families already living together in the U.S. might choose to adjust their status if they feel that it is worth it to remain in the United States, rather than travel back to their country of origin. Because the green card process, when couples are involved, demands much evidence such as pooled resources, shared living, and evidence of billing history and rental payments, the H-4 dependent status, although not directly related to green cards, gives couples more of a reason to become I-485 applicants as they near the end of their visa. We will touch on more technicalities of the green card process below.
Who is an H-4 Dependent?
An H-4 dependent can be a spouse as mentioned, but can also be the blood children of the couple or parent who has received an H1-B visa. Many spouses have careers of their own and can file for employment authorization through this program. Children who file as H-4 dependents can also go to school in the United States, however they are not eligible for temporary employment related to their field of study—something available to some foreign students, such as those in F-1 status.
The New Working Regulation
The rule that H-4 dependent spouses can receive working authorization is fairly new. On May 26, 2015, the USCIS implemented the new policy. In fact the rule, available on the National Federal Archives, reads:
            "By providing the possibility of employment authorization to certain H-4 dependent spouses, the rule will ameliorate certain disincentives for talented H1-B non-immigrants to permanently remain in the United States and continue contributing to the U.S. economy as LPRs…The rule will also bring U.S. immigration policies concerning this class of highly skilled workers more in line with those of other countries that are competing to attract, and retain, similar highly skilled workers." Link available here.
This newer age policy has resulted in real change too in terms of the number of H-4 dependents. The following is from the American Immigration Council: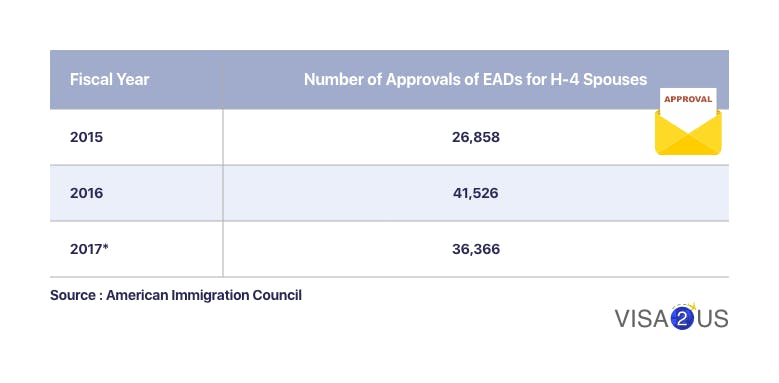 In order for those to apply Employment Authorization under this category and to incentivize an I-485 application, steps that need to be taken are the following and can be found on the USCIS website as well:
1.     Filing the I-765, Application for Employment Authorization
2.     Receiving the EAD/Form I-766 before one begins working in the United States
Providing evidence on your employment application that the H-1B nonimmigrant is the principal beneficiary of an approved Form I-140, Immigrant Petition for Alien Worker.  
Evidence of your lawful marriage (either in the U.S. or abroad) can be proven by having a copy of your marriage certificate. A government-issued ID can be a Birth Certificate Photo ID/Passport photo/National ID with Photo.
For more information, please visit: https://www.uscis.gov/working-in-the-united-states/temporary-workers/h-1b-specialty-occupations-and-fashion-models/employment-authorization-for-certain-h-4-dependent-spouses
Keywords
H1-B VisaWorkUSCISH-4 Dependent