Introduction
If one of you is a U.S. citizen and the other one is a foreign national trying to apply for your green card, this is the guide that will walk you through the application process. 
This type of application is more commonly known as "Consular Processing" because it involves the officers at U.S. consulates and/or embassies and is handled by the National Visa Center.
Before you continue with the following content, make sure to first go through our general overview of the marriage-based green card application process confirm that this is the right application type for you!
Estimated time
11 - 17 months total (7 - 10 months on establishing the marriage relationship, 3 - 5 months on the green card application with NVC, and 1 - 2 months on interview and green card approval) 
Estimated cost
$1,400 Total application fee (including fees paid to USCIS and NVC) 
$200 medical exam fee (roughly estimated) 
If you are uncertain about whether or not you are eligible for a marriage green card, you can easily determine it through our quick eligibility test!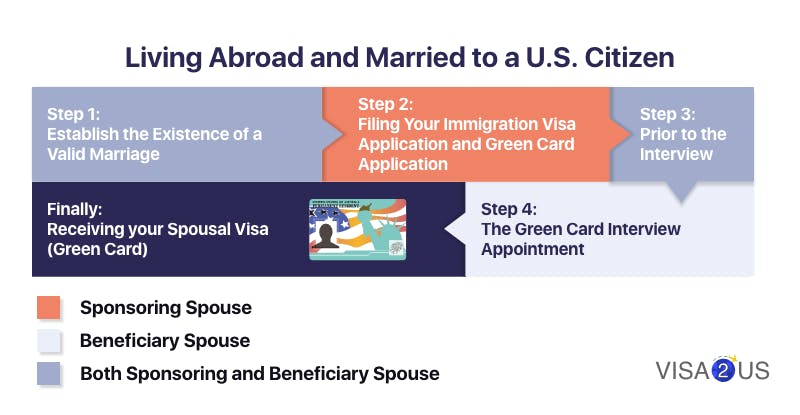 Step 1: Establish the Existence of a Valid Marriage 
The spouse with U.S. citizenship, which is also the one that files Form I-130, is known as the "sponsor" or "petitioner." The spouse with a foreign nationality, on the other hand, is known as the "beneficiary." 
Application Filing
During this step, the sponsoring spouse will complete and submit the Family Sponsorship Form (I-130) and Supplemental Information Form (I-130A) along with the $535 fee and supporting documents. 
After completing your I-130 package, mail the completed package to the right USCIS address. 
In your visa application package, you should make sure you have all the following required forms, supporting documents, and payment for the government fees: 
Required and Optional Forms
There are two main steps in preparing the required documents for a marriage-based green card.
1. Establish the marriage relationship
Form I-130: Family sponsorship
Form I-130A: Supplemental information
2. Apply for the green card
Form I-864: Financial support
DS-5540: Public Charge Questionnaire
DS-260, Immigrant Visa and Alien Registration Application
DS-261, Online Choice of Address and agent
Form I-693: Report for the Authorization of Medical Records
(Learn more about the immigration medical exam here.)
All forms can be downloaded from the USCIS website:
Family sponsorship form I-130
Supplemental information form I-130A
Financial support form I-864
Public Charge Questionnaire DS-5540 
DS-260, Immigrant Visa and Alien Registration Application
DS-261, Online Choice of Address and agent
Supporting Documents (Required and Optional) 
Proof of U.S. Citizenship of the sponsoring spouse (choose one of the following): 
U.S. birth certificate;
Valid U.S. passport;
Naturalization Certificate;
Certificate of Citizenship;
Consular Report of Birth Abroad.
Proof of valid marriage (choose one of the following): 
Marriage certificate;
Joint leases;
Joint bank account statements;
Photos of you together;
Letters from friends and relatives proving your relationship.
Proof of domicile from sponsoring spouse
Passport photo of the beneficiary spouse  x2
Proof of termination of prior marriage(s) (Optional):
a divorce decree;
a death certificate of the other spouse;
a certificate of annulment.
Proof of official name change (Optional):
a marriage certificate;
a court order of name change;
adoption papers.
Proof of nationality of the beneficiary spouse
Birth certificate
Passport photo page
Copy of military records (if applicable) 
Copy of police certificates (also known as police clearance letters) 
Mandatory Government Fees (if not listed, then fees are not required)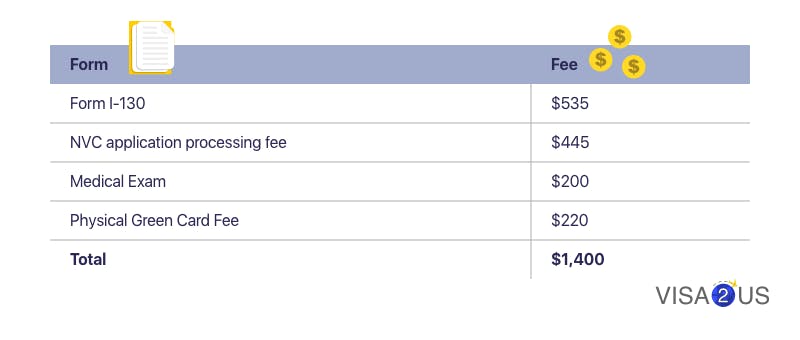 Step 2: Filing Your Immigration Visa Application and Green Card Application
After USCIS goes through your application, it will then transfer your case to the National Visa Center (NVC). Over there, they will gather the necessary forms and documents and decide if the foreign spouse is ready for an interview at a U.S. embassy or consulate. 
From here, the NVC will assign a case number to your application, which will then be the identifying case number for your application. Your application will then immediately be processed after NVC receives it, and will then be forwarded to a U.S. embassy or consulate in the country of residence of the beneficiary spouse. 
Filing the DS-261 Form: Provide a way of communication with the State Department, usually takes up to three weeks. 
If you're not sure how, click here! 
Paying the application processing fee and financial support form fee: This payment may take up to a week to process
Filing the DS-260 Form: You can begin with your application after your payment has been processed. If you're not sure how, learn more about the form here.
For this form, you will need your case number (assigned by NVC), beneficiary ID number, and invoice number. You can complete and submit the form online, but you must print out the confirmation page after you've submitted it because you will need it for your visa interview at the U.S. embassy or consulate. 
After submitting DS-260: You will first, receive a confirming receipt from the NVC; second, submit your supporting documentation (Form I-864 and Form DS-5540) through the online portal with your account.
If you are missing any documents, NVC will send you a checklist of all the documents that you need to submit within 1 - 2 months, and once they receive all the documents needed, the decision will be made within 3 - 5 months. 
Step 3: Prior to the Interview
Once your application has been processed, it will then be transferred to a U.S. consulate in the beneficiary spouse's home country. As you wait the day of your interview appointment, you can continue with the process by:
Completing the medical examination: Schedule an appointment with one of the State Department-approved doctors from the list provided with your interview notice. 
From your doctor, you will receive your results in a sealed envelope along with your vaccination records. Bring the entire envelope with you to your interview. 
Receive your passport with an approved visa stamp: Be sure to sign up online with an address to which your passport can be received. 
Schedule and attend your fingerprinting appointment: Complete the collection of your fingerprints at a visa application support center for the U.S. government to conduct background and security checks
Step 4: The Green Card Interview Appointment
This is also the final step of your application process! It may seem intimidating, but there are ways that can help reduce your stress by making sure you have an idea of what to prepare and expect during the interview. Find out more about what to prepare and expect with these resources:
Only the beneficiary spouse living abroad will attend this interview in their home country at the scheduled time, date, and location listed on the appointment notice. 
If your consular officer is convinced of the authenticity of your marriage, they may approve your green card application right away at the interview. But just keep in mind that there's the possibility of other outcomes such as a Request for evidence, additional review, second interview, and denial. 
Finally: Receiving your Spousal Visa (Green Card) 
Since it takes time to process your spousal visa, you will first receive a visa stamp on your passport that will allow you to travel to the U.S. 
You will also need to pay the USCIS immigrant fee of $220 online at USCIS's official website for them to produce and mail your physical green card. The physical green card will arrive at your U.S. address 2 - 3 weeks after the beneficiary spouse arrived in the U.S. 
You will receive one of the following types of green card depending on how long you have been married to your U.S. citizen spouse at the time of your visa approval. 
Married for less than two years ⇒ CR1 (conditional green card) - this green card is only valid for two years. After two years, you and your spouse have to file the "remove the conditions" form together and have USCIS confirm the authenticity of the marriage before you receive a permanent green card. 
Married for more than two years ⇒ IR1 (immediate relative green card) - this green card is valid for 10 years and the process of renewal is usually relatively simple.
Tracking your application
Online: you can check your case status via USCIS's website with the receipt number that came with the Receipt Notice
Phone: call the USCIS Contact Center at 1-800-375-5283. If you have hearing/speech impairment, call TTY at 1-800-767-1833. Make sure to have your A-Number, USCIS Receipt Number available during the call. 
Mail: USCIS will send out official notifications regarding your case, so make sure your mailing address is correct and reachable. 
If you're ready to apply, VISA2US can guide you through every step of the marriage-based green card application process from the beginning to the end. Find out more about the services and packages we offer or get started today! 
Keywords
Marriage Green Card
Living Abroad
Married to a U.S. Citizen
Medical Exam
Green Card Interview